Pet-Friendly Travel in the Shenandoah Valley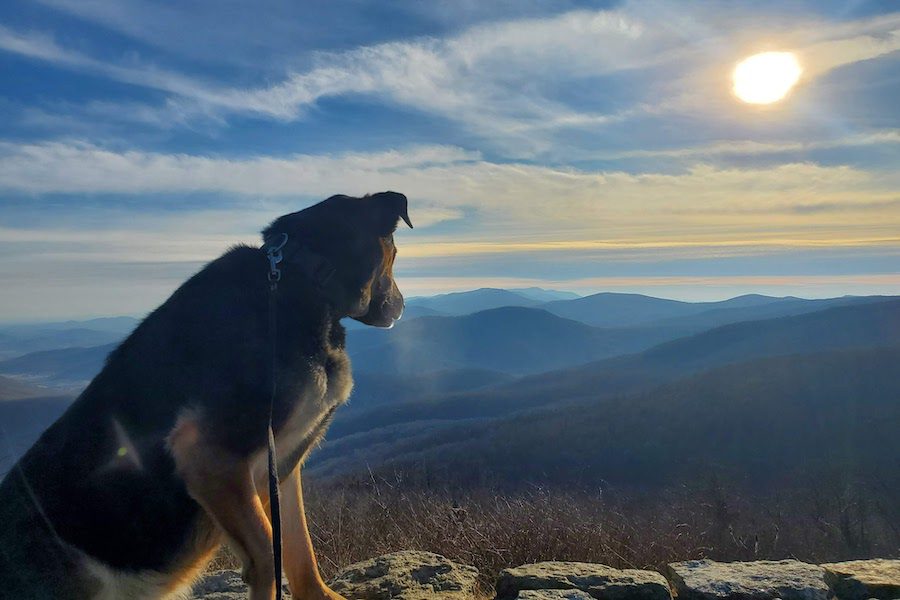 It wouldn't be a vacation without your fur babies, and the Shenandoah Valley is full of wide-open spaces to explore with your pet! But how can you avoid leaving your pet in the car when you come back to civilization? Fortunately, many businesses and attractions welcome leashed and well-behaved pets. Here's a guide to pet-friendly restaurants, attractions, businesses, and places to stay in our localities in the Shenandoah Valley.
Shenandoah National Park and George Washington and Jefferson National Forests
Shenandoah National Park showcases miles of trails with incredible summit overlooks, mountain meadows, and hikes along streams and waterfalls. Leashed pets are welcome on the majority of the hiking trails. It's actually one of just a few national parks with this perk!
George Washington and Jefferson National Forest is a wonderful chance to hike and recreate in unspoiled natural areas. Dogs must be leashed on hiking trails, but they may go off-leash in undeveloped areas. Make sure you pack plenty of water for your furry friend and check them for parasites after your visit.
Clarke County
Shopping
Downtown Berryville is friendly to leashed pets and responsible owners who clean up after them. Many local businesses supply water bowls with fresh water outside for four-legged friends. If you're looking for a gift for your pet, try the selections at Berryville Treasures and Modern Mercantile.
Attractions
Winchester and Frederick County
Dining
Roma Wood-Fired Pizza: Stop for drinks, pizza, and traditional Italian food while you're exploring Winchester's Old Town Walking Mall. The patio has dog-friendly seating.
Attractions
Winchester Dog Park at Jim Barnett Park: Licensed and vaccinated dogs can play off-leash at this fenced park. There are enclosures for both small and large dogs.
Warren County Dog Park has a beautiful location above the Shenandoah River and large, separate fenced grassy areas for large and small dogs to safely play and socialize off-leash. There's also a walking trail and a doggy water fountain.
Lodging
TownePlace Suites by Marriott Winchester allows visitors with pets. There's also an outdoor pool, a kitchenette in each room, and a grassy area for pets.
Candy Hill Campground is a camper-only (no tents) campground that allows quiet, leashed dogs. There are also camping cabins to rent as well as a dog walk area. The campground is convenient to downtown Winchester.
Shenandoah County
Dining
Swover Creek Brewery: Fill up on icy craft beer, farm-crafted sausages, and wood-fired pizza. You can't take your dog on the disc golf course, but there's a dedicated dog park onsite.
Muse Vineyards: This award-winning vineyard allows leashed dogs to accompany their owners as they relax on the decks enjoying wine and views. Check out the food menu and the onsite walking trails. Drive slowly – owners' dogs are off-leash.
Attractions
Front Royal and Warren County
Dining
The Element Bistro: You'll love the soups, salads, burgers, and sandwiches made with in-house roasted meats and homemade bread. They welcome dogs.
Pavemint Smokin' Taphouse: This "farm-to-street" taphouse serves up global street food and a nice selection of craft beers and ciders. Dogs are welcome.
Vibrissa Beer and Kitchen opens its patio to pups and their owners for craft beer and "surprising twists on traditional American-style brewpub fare."
Shopping
Front Royal is a VERY dog/pet-friendly town! We offer the #pawfect adventure for furry friends.
Attractions
Eastham Dog Park: The Warren County Dog Park, which is in Eastham Park in Front Royal, Virginia, is a very spacious park. There is a small dog section, which is reserved for dogs smaller than 30 pounds or dogs who are elderly or disabled is three-quarters of an acre.
Page County
Dining
Hawksbill Brewing Co. emphasizes local ingredients like hops, honey, and blackberries in its fresh beers. Leashed dogs are welcome.
Attractions
Luray-Hawksbill Greenway: Leashed dogs can stroll the 2-mile, paved, multi-use path stretching along next to Hawksbill Creek. This trail lets users enjoy natural elements in an urban environment.
Luray Caverns: Leashed pets can check out the Luray Caverns grounds, and if your pet is small enough to carry, you can actually take him on your cavern tour.
Accommodations
Rockingham County
Dining
The Cracked Pillar has outdoor tables where your dog can join you for apps, burgers, sandwiches, cold beer, and rotating flavors of cheesecake.
Elkton Brewing is a family-owned and operated nano brewery that serves cold beer and invites your well-behaved dogs to join you outside on the porch and in the newly completed beer garden.
Attractions
White Oak Lavender Farm: Your pup can help you explore the grounds and the wine tasting room. Breathe deeply and sample wine on the shaded patio.
Shenandoah National Park: Leashed pets are welcome on the majority of the hiking trails. It's actually one of just a few national parks with this perk.
Harrisonburg
Dining
Several Harrisonburg restaurants are not only dog-friendly but complement their offerings for humans with special treats for pups. Some of the outdoor dining spaces are shaded and all locations will bring your dog a bowl of water. Kline's Dairy Bar and Bruster's Real Ice Cream sell pup cups as does dog-themed and dog-friendly Coffee Hound. Island Wing Company has a pup menu and a shaded patio for comfort.
Coffee Hound: Photo by Jake Woetzel
Other restaurants have outdoor dining spaces that welcome owners and leashed dogs.
Shopping
Some Harrisonburg stores cater to lucky dogs or at least welcome them inside. Both Walkabout Outfitter and Blue Ridge Dog are Ruffwear providers, and Blue Ridge Dog makes homemade hand-frosted treats. Dogs can help you pick out food and treats at Sylvia's Pets and Farm Choice Country Stores.
Walkabout Outfitter: Photo by Jake Woetzel
Treats at Blue Ridge Dog
Attractions
Lodging
Augusta County
Dining
Staunton
Dining
Shop & Dine Out in Downtown: Each weekend, Staunton closes down Beverley Street for alfresco dining. Your pup is welcome to join you as you take your pick of Staunton's best restaurants.
Well-behaved dogs on leashes can join you at a table on the covered, gated patio at Table 44.
The patio at Byer's Street Bistro also welcomes dogs. Bonus: Dogs will find water bowls and often treats.
Stop by the outdoor patio at The By & By for coffee drinks, beer and wine, and sandwiches.
The patio at Thai Staunton Restaurant is pet-friendly.
If you're feeling like eating Mexican, take your pooch to Mi Rancho's outdoor dining space where you can get relax with a big, tasty margarita.
Prefer Italian? Family-owned Maria's Pizza & Italian Restaurant has a dog-friendly patio.
The Pampered Palate, Cranberry's Grocery & Eatery, The Split Banana, Nu-Beginning Farm, and the Clocktower Eats & Sweets all have delicious food and allow dogs at their sidewalk seating.
Shopping
Attractions
Montgomery Hall Park has miles of wooded trails as well as big, open fields for playing catch. Dog owners who like solitude and taking serious hikes with their dogs should sniff out the Betsy Bell Wilderness Area.
Gypsy Hill Park: Dogs can go off-leash at the Gypsy Hill Bark Park. Divided into separate enclosures for small and large dogs, the spaces include tunnels, training ladders, and benches for humans to sit.
Lodging
Hotel 24 South is both a luxury, historic hotel as well as a pioneer in Staunton's dog-friendly accommodations.
The Blackburn Inn opens select rooms to dogs and has extensive grounds to explore while you walk them.
Waynesboro
Dining
Plaza Antigua's menu includes street tacos, enchiladas, bowls, fajitas, and guacamole made right at your table, will be sure to please. Leashed dogs are welcome outside.
Lightwell Survey opens its doors for scheduled tastings once a month. They're very dog-friendly.
Basic City Beer Co.: Have a beer with your leashed dog inside and outside the taproom. Enjoy a range of craft beers, bistro-style sandwiches, and Billy Pie brick oven pizza.
Seven Arrows Brewing offers dog-friendly seating inside the taproom and on the deck. Select from 12 fresh craft beers, and dine on upscale pub fare from onsite Nobo's Kitchen.
Attractions
Waynesboro city parks: Leashed dogs are welcome in the Waynesboro parks and along the South River Greenway. 145-acre Coyner Springs Park includes a large, dedicated area for dogs to romp off-leash. There are also miles of wooded trails and lots of water (and mud) for romping.
Lodging
Lexington and Rockbridge County
Lexington, Buena Vista, and Rockbridge County offer over 75 dog-friendly locations, making it easy to travel the Shenandoah Valley with your four-legged best friend. From trails to historic sites and family fun attractions, there's no reason Fido can't tag along.
Dining
Shopping
Lexington Pet Place is a locally-owned pet store and boutique that sells food, supplies, and gifts. They work with the SPCA and Cats Unlimited to help people with adoptions.
Attractions
Hull's Drive-In lets you share this year's summer blockbusters with your pet!
The Chessie Nature Trail: Walk along the former railroad bed from Lexington to Buena Vista to get some exercise with your pet.
Dinosaur Kingdom II: Get ready to snap some hilarious pictures of your dog with dinosaurs and other exotic creatures as you tour this funky attraction!
Lodging
VISIT the SHENANDOAH VALLEY
one of the most popular
getaway destinations in Virginia