Journey Through the Shenandoah Valley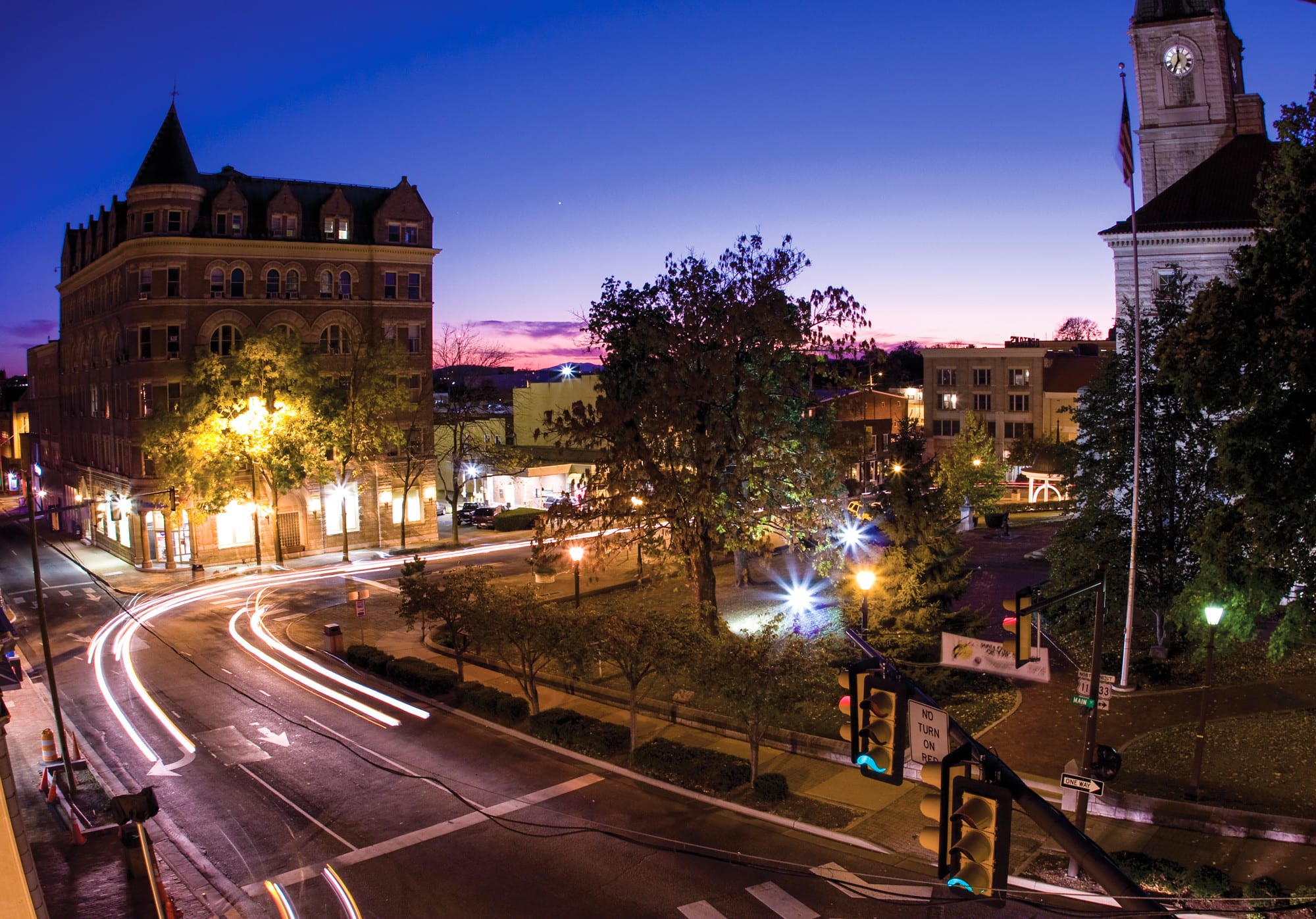 Experience the Shenandoah Valley's lively downtown communities, which are rooted in history, artisan culture, and rich in memorable authentic experiences. Enjoy the area's natural beauty and sample the innovative farm-to-table fare. Taste the fruits of the valley on the Shenandoah Spirits Trail and the Shenandoah Beerwerks Trail with locally brewed beer, wine, kombucha, and cider. This memorable journey will surprise, entertain, and delight.
Winchester and Frederick, Clarke, Page, and Shenandoah Counties
Begin your visit to the Winchester area by waking up with breakfast from Steamy's or Bonnie Blue before strolling through Old Town Winchester's charming pedestrian mall. Closed to vehicle traffic, the mall boasts historic architecture, more than 50 places to shop, and even a splash pad for kids. Dining choices abound with fine restaurants like Violino Restaurante Italian, Union Jack Pub and Restaurant, Thai Winchester, and more, three microbreweries. Nearby highlights include the Civil War Museum and George Washington Office Museum and the beautiful Handley Library. More can't miss spots include The Museum of the Shenandoah Valley, which preserves the cultural heritage of the Valley, and the Patsy Cline Historic House, the childhood residence of country music legend, Patsy Cline. Walk where Patsy walked, see where she lived, slept, and overcame many obstacles while pursuing her music career.
Next, head to Clarke County and make sure to visit Berryville's historic Main Street, where you'll find unparalleled small-town charm and character and over 100 rehabilitated buildings. Keep busy outside with a tour of UVA's Blandy Experimental Farm, which spreads over 700 acres of trees, flowers, and trails. You might also like Shenandoah University's Cool Spring, where you'll find hiking, views of the Shenandoah River, and chances to observe a great blue heron rookery and other wildlife. Refresh with delicious wine and stunning top-of-the-world views from the wine decks at Twin Oaks Tavern Winery. Overnight guests will want to book accommodations at the Waypoint House, a bed and breakfast in a graceful historic home updated with modern amenities.
Leave Berryville and head southwest through rolling hills to Mauertown's Ridge Runner Farms & Brewing Company, which serves craft beer and light fare using locally sourced ingredients.
Another can't-miss Valley attraction is Quicksburg's Shenandoah Caverns with its mile-long guided tour winding through 17 connecting chambers. This is Virginia's only cavern with elevator access! American Celebration on Parade offers an up-close look at a unique collection of stunning parade floats, props, and stage settings from America's entertainment and political parades.
Page County, known as the Cabin Capital of Virginia, beckons visitors with over 400 cabins for rent! Whether you're looking for something simple and rustic or something opulent with all the latest luxuries, plan to sip coffee on a front porch with mountain views or easy access to the beautiful Shenandoah River. Explore the river's fishing holes and rapids in your own canoe, kayak, or tube, or rent one from one nearby Shenandoah River Outfitters. Nearby, stroll Hawksbill Greenway, or tour Luray Caverns, which offers a universally accessible step-free entry and paved trails. Many of the caverns have soaring ceilings and impressive rock formations, and each tour includes an automated playing of the "Stalacpipe" organ! Besides being the largest caverns in the East, Luray Caverns also boasts the Car & Carriage Caravan Museum, where you'll find North America's oldest carriage and running car, and Shenandoah Heritage Village, which replicates a 19th-century farming community and displays artifacts from as far back as 1750.
Finish your visit to this part of the Valley with a guided horseback ride through miles of trails and picture-perfect countryside at Fort Valley Ranch. Follow your ride by taking in more Shenandoah Valley beauty at one of the area's wineries. Long known as one of the best wine-growing areas in the country, Shenandoah Valley wineries offer many varietals in a charming atmosphere.
Harrisonburg and Rockingham County
Start exploring Harrisonburg and Rockingham County in downtown Harrisonburg for shopping, galleries, historical attractions, and terrific dining. In fact, Harrisonburg is Virginia's first Culinary District and its locally owned and nationally recognized restaurants will take you on a culinary trip around the world. Many Harrisonburg restaurants embrace the farm-to-table philosophy, creating gourmet dishes from locally sourced ingredients. Enjoy a meal at Clementine Cafe, BoBoKo Indinesian Cafe, Jack Brown's Beer and Burger Joint, Bella Luna Wood-Fired Pizza or another of Harrisonburg's many offerings. Sage Bird Ciderworks uses locally-sourced fruit and flavor to produce small-batch, hand-crafted hard cider.
Visit the North End of downtown Harrisonburg to experience a new hub of entrepreneurial success housing businesses like coffee roasters, a handcrafted leather shop, and a co-working space.
Stroll around the lovely campus of James Madison University and then check out The Virginia Quilt Museum, which celebrates Virginia's quilting heritage with examples of heirloom, contemporary, and art quilts. Also downtown is Hugo Kohl's Museum of American Jewelry Design and Manufacturing, where visitors can enjoy a visual, auditory, and sensory experience of jewelry manufacturing as artisans create beautiful designs in front of your eyes.
Just outside of town find the Brethren & Mennonite Heritage Center, which celebrates the historical and spiritual legacies of Brethren and Mennonites in the Shenandoah Valley with guided tours, exhibits, traditional structures, and hands-on activities.
Head east into Rockingham County for four seasons of fun for the whole family at the 6,000-acre Massanutten Resort. Golf, enjoy winter sports, a waterpark, and a chance to climb and zipline at the Family Adventure Park.
The Skyline Drive runs 105 miles along the ridge in Shenandoah National Park. Pick it up in Rockingham County at Swift Run Gap and travel to the southern terminus at Rockfish Gap. Expect to see deer, black bear, and wild turkey along the way. Numerous scenic overlooks and hikes are accessible from the Skyline Drive. Bring a picnic and enjoy the view.
Waynesboro, Staunton, and Augusta County
After SNP, visit Waynesboro, home to a lively downtown packed with shopping, galleries like the P. Buckley Moss Gallery, and over 60 restaurants. For a taste of something new, try Blue Ridge Bucha, an organic kombucha brewery offering bottles, growler fills, and glasses of hand-crafted kombucha. Stroll along the South River Greenway for views of the river, Waynesboro parkland, and the Blue Ridge Mountains. Waynesboro is home to the annual Virginia Street Arts Festival, and you can discover a number of impressive murals located on buildings in unexpected places.
Head west, stopping at Stable Craft Brewing for a craft beer, a delicious meal, and a chance to pet the horses. Nearby, find JMD Farm Market and Garden Center and browse a selection of produce, grass-fed meats, free-range eggs, and plants. Another good place to find Valley bounty is Valley Pike Farm Market, where you can stock up from a huge selection of local craft beers and wines, as well as locally sourced bakery items, Virginia-made fare, bulk foods and more. You'll also want to take a walking tour of the Frontier Culture Museum, a treasure of living history, where costumed interpreters work farms representative of the region's earliest.
Staunton is known for its well-preserved Victorian architecture and its Blackfriars Playhouse, the world's only re-creation of Shakespeare's indoor theatre. Visit the Woodrow Wilson Birthplace and Presidential Library, and take a self-guided tour of Staunton's five historic districts, making sure to check out the downtown shops offering antiques, art, and distinctive gifts. Visitors of all ages will appreciate watching live glassblowing at Sunspots Studios and a chance to browse the gallery/shop for art gifts. If you're here on a weekend, check out the Farmers' Market and enjoy fare from of some of Staunton's best restaurants like Zynodoa, BLU Point Seafood, Baja Bean Co., Laughing Bird Pho and more as they provide al fresco dining on sections of Beverley Street that are temporarily closed to vehicular traffic.
Lexington and Rockbridge County
More spectacular Valley scenery awaits as you move south toward Lexington. History buffs should stop at Wade's Mill, a water-powered grist mill from the 1750s, located in Raphine, Virginia, and listed on the National Register of Historic Places. Explore the mill and shop stone ground grain products. Next, take a self-guided tour of the Cyrus McCormick Farm, which tells the history of the mechanical reaper, responsible for revolutionizing grain harvesting in the 1830s.
With a population of less than 10,000, Lexington offers small-town charm with a big heart. Home of Washington & Lee University and Virginia Military Institute it has been the filming location of several popular movies including Sommersby, Gods and Generals, and a few scenes for War of the Worlds. Plan to explore the walkable downtown area's shops and galleries. You can also relax and see Lexington by horse-drawn carriage. Treat your taste buds to some inspired Southern cuisine at Bistro on Main, the Southern Inn, The Palms or one of Lexington's other fine restaurants. If you brought the bikes, plan to take a ride along the scenic (and flat!) Chessie Trail, which stretches 7 miles along the former Chesapeake and Ohio Railroad bed hugging the Maury River between Lexington and Buena Vista.
Rockbridge County got its name from Natural Bridge, a geologically formed 215-foot-high natural arch over a limestone gorge carved by Cedar Creek, a small tributary of the James River. Enjoy the Monacan Indian Village and hiking the scenic trails at Natural Bridge State Park. Nearby, find the Virginia Safari Park, a 180-acre drive-thru zoo where you can view and feed animals from around the world.
A visit to the area wouldn't be complete without a drink at one of the county's three microbreweries or a movie at the iconic Hull's Drive-In, which has been showing movies under the night sky since 1950.
VISIT the SHENANDOAH VALLEY
one of the most popular
getaway destinations in Virginia